CONVERSE, Texas - Just two days before classes began Monday, St. Monica Catholic School in Converse notified eight of its staff and one of its new teachers they were being laid off.
Jordan McMurrough, spokesman for the Archdiocese of San Antonio, said they were the result of declining enrollment and a $500,000 budget deficit larger than what was expected.
"This action, while very painful and very unfortunate, it was very necessary to ensure the financial stability of the school," McMurrough said.
He said St. Monica's had experienced two consecutive drops in enrollment, the largest being 60 students.
At its height, the school's enrollment numbered 500 students, but this year enrollment had fallen to 320 students.
"The previous administration had supplied the numbers to the Catholic schools office in June of 380 (students) with a projection of 400 (students)," McMurrough said.
He said the archdiocese was working off those numbers only to find out when the new administration took over in early August, the operating deficit of nearly $500,000 was "much larger" than initially expected.
McMurrough said that was why the school approached the archdiocese for help.
Several parents who spoke to KSAT said their children had not been directly affected, except for a third-grade class that had to be consolidated, increasing its student-to-teacher ratio.
Even so, they said, they felt badly for the support personnel, like the healthcare coordinator and school counselor, who were abruptly terminated, some of whom had been at St. Monica's for 20 to 30 years.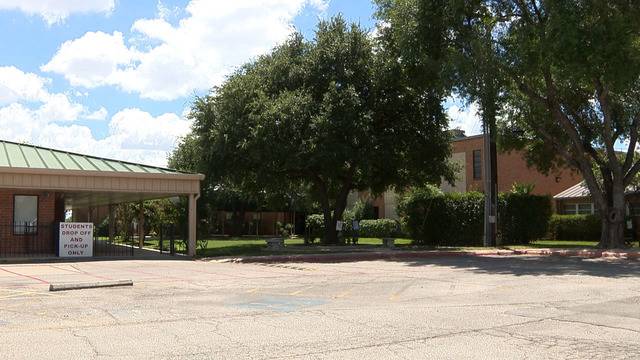 "I would like for them to let us know what's really going on, to speak to us. Let us know what is going on," said Elizabeth Gomez, a volunteer with grandchildren at the school.
Joseph Reed, who has two sons in middle school there, said in addition to the $5,000 yearly tuition, they also donate to the church with a portion for the school.
Yet Reed said after a new priest arrived a few years ago, the school's yearly $100,000 allotment ended.
"He basically disassociated himself," Reed said. "The school was secondary. The church is primary."
Reed said he blames the plans that are in the works for a multimillion dollar expansion of the church.
"You can't tell me on Saturday and Sunday, the church aisles are full and it's standing room only," Reed said.
In response, McMurrough said the parish priests have quite a bit of autonomy on how they spend church funds, including "the liabilities they are able to undertake."
Still a former employee, who did not want to be identified, said she agreed with what the archdiocese is trying to do.
"We knew for some time this might happen," she said.
Still parents like Chris Randle said, "We understand it's in God's hands, but at the same time, we're human and so have a natural response to react."
Gomez said if the parents had known they would have done as much possible to raise the needed funds.
Copyright 2017 by KSAT - All rights reserved.